Fabtech 3″ Lift Kit for 2021-2022 Ford Bronco 4WD with Uniball UCA Front and Rear Dirt Logic 2.5 RESI Coilovers
Description
Fabtech 3″ Lift Kit for 2021-2022 Ford Bronco 4WD with Uniball UCA Front and Rear Dirt Logic 2.5 RESI Coilovers
Part: K2378DL
Fabtech's high quality Uniball UCA lift kit for the Bronco offers increased front suspension travel for enhanced offroad capabilities with clearance to run 35″ tall tires. The stance of the vehicle with this kit will become more level front to rear for an aggressive look.
The factory Bronco upper control arms are replaced with Fabtech's Uniball Upper Control Arms that provide additional wheel travel with an extra degree of caster compared to stock arms. The increased caster helps to balance steering effort with oversized tires.
The Fabtech upper control arms are constructed of the finest material with .120″ wall 1.25″ OD 4130 Chromoly steel tubing. High quality 1″ FK Stainless PTFE lined Uniball bearings are utilized in place of the small factory ball joints and allow for increased travel without bind. These super stout Bronco upper control arms are designed for longevity in rugged offroad conditions while providing a more positive on road feel.
The Fabtech upper control arms have been designed to work in conjunction with the Dirt Logic 2.5 Coilover shocks to provide additional front wheel travel.
The rear suspension receives Adjustable Lower Link Arms with Fabtech's lifetime 5 Ton joints®. The lower links are .313 thick wall tubing that are guaranteed never to bend. Dirt Logic 2.5 Coilovers are utilized for a balanced ride front to rear.
This system is perfect for those that want increased suspension performance with a low lift height. A great choice for daily drivers that want a clean look with the ability to hit the trails on weekends.
Features:
Arms eliminate upper ball joint w/ super strong 1″ ID Stainless American Uniball
Chromoly tubing reduces flex found in stock arms for more positive road feel
17-4 Stainless Steel Heat treated Uniball pin fits into factory ball joint taper without modification to the spindle
Adjustable lower rear link arms for increased strength & articulation
Front & Rear Dirt Logic 2.5 Coilover Shocks
Great system for the daily driver that requires increased offroad performance
5 Year 60,000 Mile Powertrain Warranty
Components:
| QTY | PART # | DESCRIPTION |
| --- | --- | --- |
| 1 |                   FTS22336 | UCA COMPONENT BOX |
| 1 |                   FTS22338 | REAR LOWER LINK COMPONENT BOX |
| 1 |                   FTS22340 | FRONT DIRT LOGIC 2.5 RESI COILOVERS |
| 1 |                   FTS22341 | REAR DIRT LOGIC 2.5 RESI COILOVERS |
Note:
185. Fits 4-door models only.
238. Fits models equipped with Bilstein shocks only.
Tire Information:
Use 35/12.50R17 tires w/ 17×9 wheels w/ 4 1/2″ BS w/ minor trimming
Use 35/12.50R18 tires w/ 18×9 wheels w/ 4 1/2″ BS w/ minor trimming
Use 35/12.50R20 tires w/ 20×9 wheels w/ 4 1/2″ BS w/ minor trimming
INCLUDED SHOCKS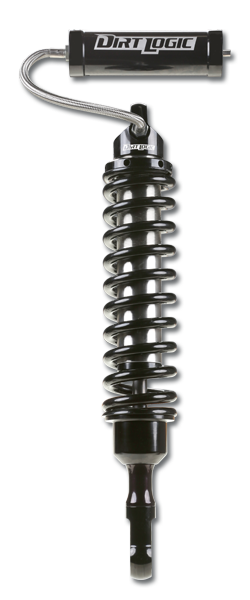 FRONT DIRT LOGIC 2.5 RESI COILOVER
From our desert racing experience the Dirt Logic 2.5 has been developed for exceptional performance in a variety of Coilover applications. The Dirt Logic 2.5 will provide incredible dampening capacity for aggressive offroad driving.
2.5″ OD Stainless Steel Body
2.25″ OD Billet Aluminum Piston
7/8″ NitroSteel® Black Piston Rod
Cold Wound Coil Springs
Adjustable Coilover Construction
5/8″ Spherical Ball Mounting Ends
2.50″ OD Aluminum Reservoir w/-8 Stainless Steel O-ring Hose
Questions and answers of the customers
There are no questions yet. Be the first to ask a question about this product.