Description
ICON Tubular Upper Control Arm Kit for 2021-2022 Bronco 2WD/4WD DJ PRO
Part: 48400DJ
These tubular steel upper control arms free up your 2021-Up Ford Bronco's front suspension movement to allow maximum travel for performance shocks and coilovers at an easier price point compared to our range-topping billet components. Additional caster is built in to correct geometry to allow for better front-end alignment on lifted Broncos. The all-new Delta Joint PRO provides a host of durability and performance improvements compared to our standard Delta Joints, including up to 90° of free articulation to maximize suspension travel without bind. It's also larger and fully rebuildable. The Delta Joint PRO's grease fitting is protected by an anodized billet aluminum dust cap, included with the kit. Serviceable Heavy Duty Dual Stage bushings at the frame pivots are greaseable and rebuildable, and fit into precision machined bushing housings to ensure a responsive driving experience. ICON Tubular Upper Control Arms are constructed of heavy wall DOM tubing, CNC formed and fixture welded before receiving our multi-stage black powder coat finish. Includes all components and hardware necessary for a complete install, these billet UCAs are the perfect front end upgrade for the 2021-UP Ford Bronco.
ICON suspension components with the all-new Delta Joint PRO represent the state of the art in off-road performance and durability. Delta Joint PRO is ICON's innovative new suspension articulation joint which combines the durability and longevity of factory style ball joints with performance and strength that exceeds traditional motorsports-style ball joints. The Delta Joint PRO features a new rebuildable, serviceable design in which any component may be removed, inspected and replaced without having to purchase a whole new joint. Strength and durability are improved by using a larger ball with 56% more bearing surface than our standard Delta Joint, along with improved lubrication sealing. But improved performance is at the heart of the Delta Joint PRO, with a full 90 degrees of articulation, from one extreme to the other. This represents a 14% improvement in range of motion, over the highly capable original Delta Joint, allowing for maximum bind-free suspension movement through the complete range of travel. The Delta Joint PRO is built to take the abuse, with a chromoly ball and shaft that has a bearing surface hardened to Rockwell C 55. The replaceable races are made of graphite-impregnated sintered metal, machined to the finest tolerance to provide a flawless, metal-to-metal bearing interface. We also redesigned the lubrication system, with lubricant channels that distribute grease more efficiently without extending past the bearing seal.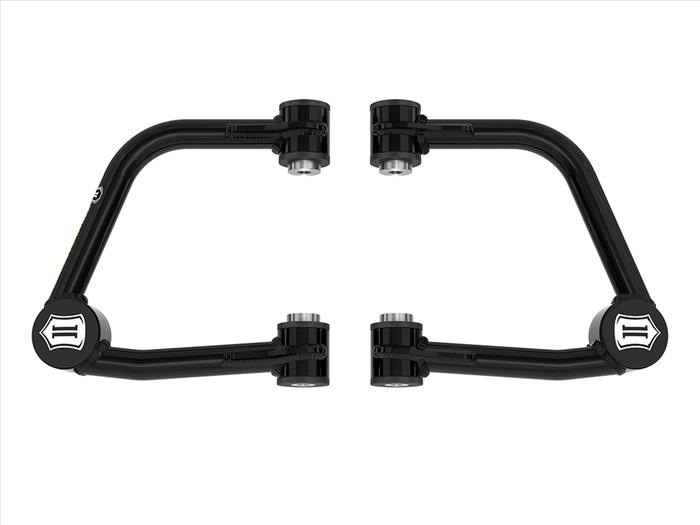 Features and Benefits:
Built in added caster for better handling on lifted vehicles
Delta Joint PRO allows maximum articulation without binding
Delta Joint PRO is 100% serviceable and rebuildable
Serviceable dual stage pivot bushings
CNC machined housings for bushings and Delta Joint PRO
1026 DOM tube construction with black powder coat finish
Includes billet dust caps for Delta Joint PRO
Tech Information:
Factory Wheels & Tires Fitment: Yes
Recommended Aftermarket Wheels: ICON Alloys | 17″ x 8.5″ with 4.75″ Backspace / 0mm Offset
Recommended Aftermarket Tires: 35″ x 12.50″
TECH NOTE: Not compatible with Bronco Raptor trim
Questions and answers of the customers
There are no questions yet. Be the first to ask a question about this product.